Officers
Pam Daly, President
Brianne M. Tangney, 1st Vice President
Nishita Roy-Pope, 2nd Vice President
Steven A. Thebodo, CPA, Treasurer
Diane M. Giampa, Human Resources Liaison
Laura Estaphan, Secretary
Directors
Ingrid Adade
Kenneth F. Atchue 
Amy Borg 
Mithu Bhargava 
Robert Doherty 
Colleen Dowd 
John R. Frongillo, Jr., CRPC 
Betsy Fuller, PT, Ed.D 
Barbara Guertin 
Judith Henry 
Coretta McCarter 
Michelle Morneau 
Marie Morse
Sheree Ohen 
Elaine Osgood 
Kris Prosser 
Jody Staruk
Shelly Yarnie 
Pamela Zorge 
Honorary Directors
Suzanne O. Carlson
Helen P. Koskinas
Valerie S. Loring
Mary McShea
Stella Mingolla
Mary Jane (Jid) Sprague
Sarah H. Williams
Angela Angell
Kayara Burnett
Jennifer Casey
Daniel Castillo-Aponte
Katharine Cooney
Benjamin Darling
Ann Marie Dawes
Kaitlyn DeBlois
Trinidy Degon
Gemelee DePasquale
Fatoumata Diallo
Pnina Dotan
Meghan Dowd
Judith Fleming
Ronan Foley
Tina Gaffney
Sarah Goguen
Emma Goldblatt
Gabriella Greenman
Kelley Harris
Jordann Hauge
Annalysse Hazzard
Allison James
Kristen Laforest
Annalise Loizeaux
Jennifer Madson
Dorothy McCoy
Rebecca Mitchell
Felicia Morgan
Anthony Papagni
Olivia Pastor
Yaa Poku
Monique Reyes-Navarro
Johanna Riddle
Sheniqua Rogers
Kenia Sanchez
Maria Sarmiento
Kaila Skeet Browning
Rachel Silverman
Helen Tautkus
Steven Vasquez
Victoria Waterman
Catrin Weimbs
Cheyanne Zappala
*This list includes year-round fulltime, parttime, and seasonal staff from summer 2020.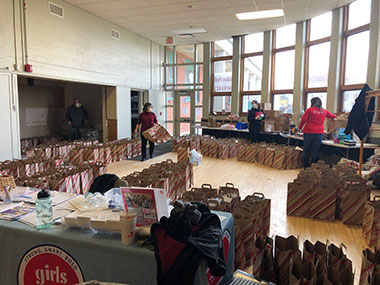 In response to a state mandated stay-at-home order, Girls Inc. of Worcester ceased all in-person programming on March 13, 2020. Within 2 weeks, our incredible staff had developed, modified, and implemented more than 10 free virtual programs for our girls. More than 900 girls were contacted directly by staff to ensure their social and emotional wellbeing. We were able to offer limited in-person summer camp for 30 girls at little to no cost to their families. Staff continued to create and offer dynamic virtual programming opportunities through the summer.
Success story: Meet Niah!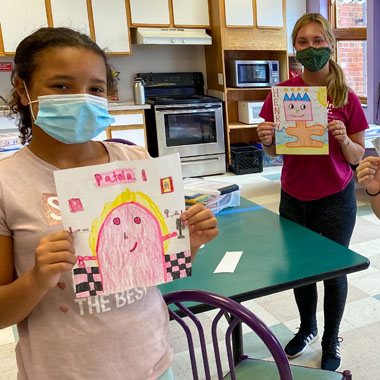 The Covid-19 pandemic has been extremely stressful for many of our participants and their families. Despite these challenges, many of our participants have continued to retain and build  resilience, leadership, and social emotional skills – all aspects of personal development that we emphasize in our programming.
Niah is a middle schooler and regular in Girls Inc.'s after-school and summer programs. This summer, Niah was able to join our limited in-person camp for several weeks. During her first week at camp, Niah befriended a girl in her group who is currently in foster care. Within a short period of time, the girls became very close and talked on the phone every day. When Niah went on vacation and wasn't at camp for a week; she and her new friend would check in with each other and made plans to see each other again. Niah and her friend, like other girls at Girls Inc., were able to learn the important social and emotional skills they needed to support each other and to navigate difficult situations.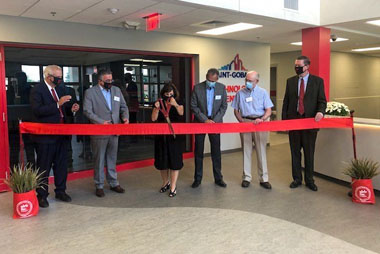 2020 marks the conclusion of our 5-year Capital Campaign and Renovations! The $5 million renovations transformed our dated building into a safe, state-of-the-art facility for our girls to learn and grow into Strong, Smart and Bold young women. Updates included the pool, gym, heating, cooling, air, ventilation, security, roof, and staff areas. Girls Inc. is particularly proud to present our newly opened Saint-Gobain Technology Center which will provide technology-based training for girls in the Worcester area for years to come. Thank you to our Capital Campaign Donors for supporting this incredible work!
Capital Campaign Donors Ribbon Cutting/Renovations Tour Our Facility
New! Daryl Krindel Scholarship
During our 2020 Career and College Shower, the Inaugural Daryl Kriendel Award was presented to Annalysse Hazzard.
Daryl Kriendel is an alum of Girls Inc. of Worcester—she says that our programs played an important part in her development. She describes Girls Inc. as a second home from the age of six through her teenage years. Due in part to her experiences at Girls Inc., Daryl went on to study math at Clark University. Daryl created this ongoing scholarship to support the next generation of girls as they pursue continuing education opportunities.
We were proud to present the Inaugural Daryl Krindel Scholarship and Award to Annalysse in June 2020. Annalysse is the first girl in recent memory to complete a 13-year, Kindergarten through 12th grade journey through Girls Inc. of Worcester's pipeline of programs. As a recent Eureka! graduate and current Girls Inc. staff member, Annalysee continues to be an incredible role model for younger girls. Congratulations, Annalysse!
Download Financials Program & Operations Supporters
Statement of Financial Position
 
2020
2019
Variance
Assets
Cash & Cash Equivalents
$1,908,168
$1,687,909
$220,259
Pledges receivable, net
$66,508
$180,711
($114,203)
Grants and other receivable
$56,391
$104,734
($48,343)
Prepaid Expenses & Other Assets
$20,151
$31,081
($10,930)
Property & Equipment Net
$4,553,630
$3,772,227
$781,403
Investments
$5,643,839
$5,850,243
($206,404)
Beneficial Interest in Trust
$918,058
$923,784
($5,726)
Pledges Receivable, non current
$31,676
$19,292
$12,384
Total Assets
$13,198,421
$12,569,981
$628,440
Liabilities & Net Assets
Current Liabilities (accts. Payable, accrued expenses, Restricted Funds deferred revenue)
$592,947
$179,935
$413,012
Restricted Funds
$1,476,770
$2,138,029
($661,259)
Other Unrestricted
$11,021,706
$10,252,017
$769,689
Total Liabilities $ Net Assets
$13,198,421
$12,569,981
$628,440
Statement of Activities
 
2020
2019
Variance
Revenue & Other Support
United Way of Central MA
$146,607
$163,796
($17,189)
Grants and contribution revenue
$986,419
$882,620
$103,799
Program fees and registration fees
$248,154
$334,711
($86,557)
Capital campaign contributions
$371,511
$115,064
$256,447
In-Kind contributions
$48,545
$43,679
$4,866
Rental Income
$9,100
$7,620
$1,480
Dividends and Interest Income (net of fees)
$122,206
$211,648
($89,442)
Total Support & Revenue
$1,932,542
$1,759,138
$173,404
Expenses
 
 
$0
Program Services
$1,512,731
$1,407,713
$105,018
Support Services
$465,581
$399,050
$66,531
Payment to GI National
$12,620
$12,620
$0
Total Expenses
$1,990,932
$1,819,383
$171,549
Change in net assets from operating activities
($58,390)
($60,245)
$1,855
Nonoperating Activities
Gain on sale of property and equipment
$0
$24,500
($24,500)
Investment return, net
$172,546
$162,717
$9,829
Change in beneficial interest in trust
($5,726)
$3,741
($9,467)
Total nonoperating activities
$166,820
$190,958
($24,138)
Change in net assets
$108,430
$130,713
($22,283)
Net Assets- Beginning
$12,390,046
$12,259,333
$130,713
Net Assets- Ending
$12,498,476
$12,390,046
$108,430