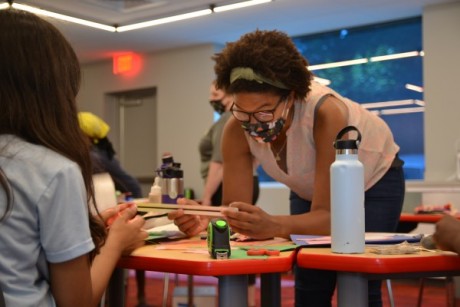 Worcester, MA – Girls Inc. of Worcester was awarded a $25,000 grant by the Massachusetts Biomedical Initiatives (MBI).  The Massachusetts Office of Business Development has provided MBI with funding to promote diversity in the life sciences industry throughout the Commonwealth through the Building a Diverse Biomanufacturing Workforce Pipeline Challenge Grant. The grant will support Girls Inc. of Worcester's five-year STEM and Leadership program Eureka! for girls in grades 8-12. In operation since 2011, this progressive model of programming recruits a new cohort of 30 girls each year. Eureka! is currently expanding to Framingham where Girls Inc. of Worcester intents to recruit another 180 girls over the course of 5 years. Each year, Eureka! provides 130 under-resourced girls in the Worcester area with access to high-quality evidence-based STEM enrichment and leadership opportunities. 64% of Eureka! participants come from low-income families (making less than $50,000/year) and 74% identify as girls of color – two key demographics that the MBI wants to tap for future workforce development.
CEO of Girls Inc. of Worcester, Victoria Waterman, says, "We have seen Eureka! graduates go on to pursue STEM majors during their college careers. It is incredible to watch girls as they develop confidence and discover leadership in these fields."
MBI is predicting 40,000 net new jobs in the life sciences industry by 2024. Much of this growth is driven by the emerging biomanufacturing industry, where companies begin manufacturing their products for patients in clinical trials and beyond. The Biomanufacturing industry creates opportunities for growing the regional life science cluster outside of I-95 to access more communities and residents.  Through a community process, Worcester has developed a biomanufacturing park, known as The Reactory, that serves as a model for biomanufacturing growth across the Commonwealth.  A critical part of a company's decision to locate in these parks is infrastructure to support their workforce needs. Girls Inc. of Worcester's Eureka! program meets this need through its evidence-based STEM programming for girls. Since its inception, Girls Inc.'s Eureka! program has been connecting under-resourced girls with people and opportunities in STEM-related fields. Over the last 10 years, Eureka! participants completed 188 paid externships and were accepted to more than 300 colleges, universities, and post-secondary training institutions. In the 2021 graduating Eureka! cohort, 78% of participants chose a STEM-related field as their major or focus of their post-secondary training.   
Girls Inc. of Worcester is currently looking for matching donations and contributions from individuals and corporations to expand the impact of the Building a Diverse Biomanufacturing Workforce Pipeline Challenge Grant in the Worcester community. To participate, please contact Victoria Waterman