Release Date:
Thursday, October 21, 2010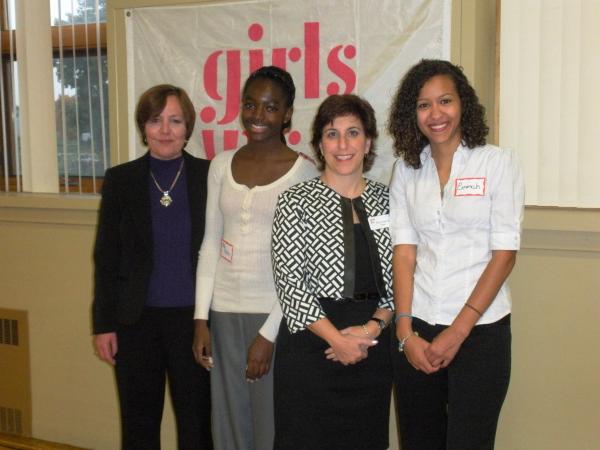 rls Incorporated of Worcester held its 94th Annual Meeting on Wednesday, October 20, 2010, from 5:00 – 7:00 p.m., Alden Hall - 125 Providence Street, Worcester. A brief business meeting was held to announce incoming board members and recognize those who are retiring. Deb Hopkins, Chief Executive Officer presented program highlights from this past summer and fall and directed her focus to the girls and how Girls Inc. of Worcester, a nonprofit, is run through community involvement and support. We were honored to announce our keynote speaker, Emmah Parks, a junior at Becker College where she is currently studying criminal justice and forensic science. She has been recognized for her strong leadership skills by both professors and peers and serves as a Residential Advisor and Orientation Leader. She is dedicated to her community and school, and she is involved with a variety of extracurricular activities including drama club, dance team, Black Student Union and Habitat for Humanity.
On December 1, 1955, Rosa Parks forever changed history by refusing to give up her bus seat to a white passenger. That small action continues to represent the beginnings of the civil rights movement. Emmah's relation to Rosa Parks has inspired her to pursue her dreams and to believe that we can all make a difference. Her message to the younger generations is that if you believe in yourself you can grow up and be happy. "Follow your dreams!"
Girls Incorporated of Worcester is a non-profit organization that was founded as the Worcester Girls Club in 1916. For 94 years it has continually evolved to meet the changing needs of girls in our community. Girls Inc. is dedicated to inspire all girls to be strong, smart, and bold by offering quality research-based programs in a safe environment and providing opportunities for girls to take healthy risks, build leadership skills and master physical, intellectual, social and emotional challenges.
Becker College is ranked by The Princeton Review as the #1 college in New England for video game design, and #4 in the country. Becker serves more than 1,700 students from 18 states and 12 countries and offers 27 diverse, first-quality degree programs that launch careers, from Nursing to Equine Management, and a variety of adult learning options. With campuses in Worcester and Leicester, Mass., Becker traces its history to 1784 and has over 22,000 alumni.