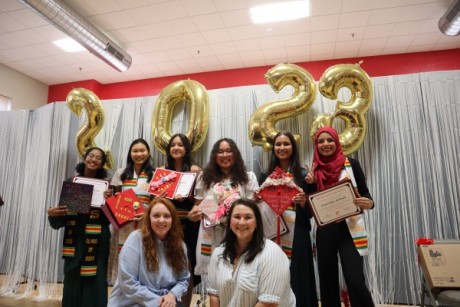 On May 23, 2023, Girls Inc. of Worcester hosted our Career & College Shower event for the Eureka! Class of 2023 graduates. 
Board President, Pam Daly, shared how important this night is to celebrate our girls. "In most traditions, females get honored or "showered" with gifts to offset the expenses as a new mom or wife. At Girls Inc., we believe that graduating from high school and furthering education and careers are accomplishments that also deserve a shower!" 
Among the 28 girls who graduated...
100% of the girls will go on to higher education!
53% of graduates plan on majoring in a STEM field!
25% of the girls will be the first in their immediate family to attend college!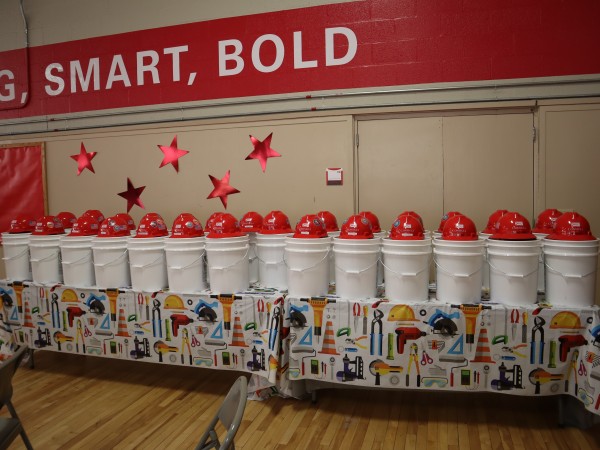 The cohort was showered with gifts to prepare them for college. Each girl received a laptop and essential dorm room supplies! Thank you to Consigli Construction Co., who adopted this cohort and gifted the girls with their own toolboxes and hard hats that the girls have had since the beginning of the program in 8th grade. We want to thank the Progin Foundation for being our laptop sponsor for this year. Additionally, thank you to our community, especially Dell Technologies, for supporting our wishlist.
Stephanie Hull, CEO of Girls Inc. surprised the girls as the Keynote Speaker. During her speech, Stephanie notes, "All of us at Girls Inc. think constantly about your future - which is also our future. And we think your future is going to be amazing because we think you are brilliant". 
During the event, we were able to present some awards to our girls and community members who have made a difference and have had a major role in Eureka! programming:
Senator Harriette L. Chandler Trailblazer Award
In honor of Senator Chandler, this award goes to a woman who embodies Senator Chandler's trailblazing spirit and advocacy. The award was presented to Emmanuella Tieson, who will be double majoring in cinema and political science, where she plans to create change and give voice to the black community for social justice. 
Maureen Binienda Education to Opportunity Award
This award was created in honor of former Worcester Public School Superintendent, Maureen Binienda. This award is given to a graduating senior who has leveraged education to create opportunities. This year, the award was presented to Glenda Asare, who is pursuing an education on the pre-med track in psychology to break the stigma for mental health disorders. 
Daryl Krindel Scholarship Award
Daryl Krindel, who is a Girls Inc. of Worcester alumna, says that the program at Girls Inc. played an important part in her development. She describes Girls Inc. as a second home from the age of 6 throughout her teenage years. Daryl created this scholarship to support the next generation of girls as they continue to pursue education opportunities. This year, the award recipient is Esther Gyan. 
2023 Eureka! Outstanding Community Partner Award - Dr. Mary Pickering, Science LIVE
We also celebrated Dr. Mary Pickering, co-founder of Science LIVE as the 2023 Eureka! Outstanding Community Partner. We appreciate Mary and her team for their time, talent, and contributions to the Eureka! program!
The cost per girl to complete this 5 year program is $10,000, an incredibly worth while investment!  Thanks to our corporate partners, foundation supports and our donors we are able to offer this program for $0 DOLLARS! Please consider making an investment in our Eureka! students.
Thank you to our supporters: