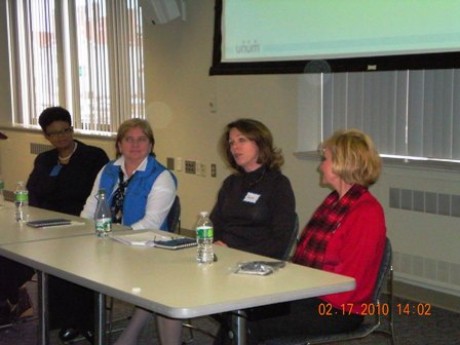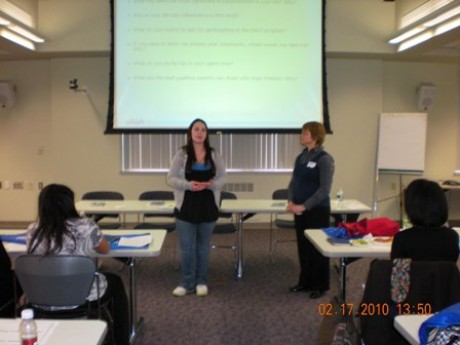 Yesterday was UNUM day FOR GIRLS INC of Worcester. And what a day it was!  We had not one,  but two awesome experiences for our girls yesterday, thanks to UNUM. 
Fifteen middle and high school girls (in our UNUM sponsored GALS program) participated in a day long Leadership Academy at UNUM, learning skills in resume preparation, public speaking and modeling/etiquette and style.  The program finished with a very interactive discussion between the girls and an Executive Panel about success, learning through experience and setting personal goals.  I was there as an "observer" and was BLOWN AWAY with the quality of the interaction between the girls and the adult volunteers, the excitement of the girls, and the powerful stories and ideas that were shared.
Karon Shea, owner of Karon Shea Model Management had the girls (and the adults too) totally engaged in the basics of etiquette, dress and personal style!  Another Girls Inc alum, and mom of three Girls Inc alum, Karon totally impressed the young women with her direct style, experience and caring.  AND she has offered a scholarship for one of the girls to attend a ten week session at her studio, and invited the girls to audition for modeling prom dresses at two local malls.  She is an awesome lady!
From UNUM, we want to thank Tamara Yukenas, Girls Inc alum and GALS program coordinator, Jen Roy, Senior Communication Consultant at UNUM and GALS program coordinator, Janine Goldberg, UNUM HR and resume expert, Catherine Foster from UNUM's Toastmaster's Club for the great course in public speaking,  Nancy Kidd-Brown and Gayle Weiss who joined Girls Inc Board Vice President Felicia Riffelmacher and Karon Shea on the Executive Panel. Jim Hecox, Girls Inc Director and UNUM employee also joined us for a part of the day.  The panel discussion was honest, inspiring and embodied STONG, SMART and BOLD - from the stories shared to the questions asked and answered!  Thank you so much to each and all of you!
THEN - ALSO - AND at the same time, 18 girls (AKA The Village Girls) in our school vacation program at Withrop House piled in the vans to spend part of the day at Old Sturbridge Village, compliments of UNUM!  They had a wonderful time, learned so much - as you can see in the attached photo.
Thanks to everyone at UNUM - an organization that EXCELS at generous giving and community support. Girls Inc is PROUD to be your parter!!
Cathi