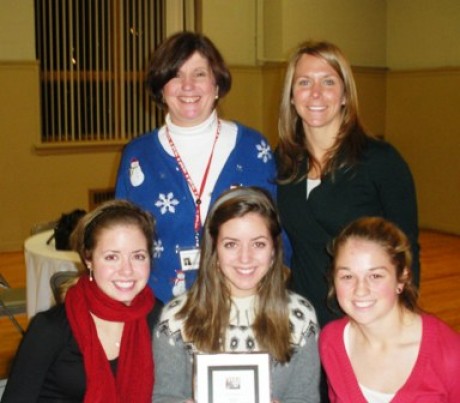 Girls Inc's Holiday Celebration lasted all day long!  On Friday the 18th we started with a staff Christmas potluck lunch, Yankee Gift swap and special gift raffle!  It was great to have time together with ABUNDANT food, gift cards, a new baby and much laughter!!!
At 4PM we heard a hearty HO HO HO and Santa came to visit the girls and give them each a special gift AND a hand knit hat (really a great gift on a weekend like this one!)  Check out the pictures below!
As the girls sat on Santa's lap and tried to pull his beard, about 30 of our dozens of volunteers stopped by to enjoy cookies, punch and special thanks for all they do to make Girls Inc a special place for girls! 
We recognized three volunteers:
Meagan Healy, the energetic volunteer who has made our Lego Robotics Team a reality!
The Worcester Academy Girls' Lacrosse Team who have been mentors and leaders for the last year
Robert Jennings, Principal at Sullivan Middle School who epitomizes advocacy for girls everyday, and demonstrated that by sending Geritza Ortiz, an eigth grade student at Sullivan to accept his award when he could not be there!  She represented him wonderfully!
Please enjoy the pictures and the spirit that they convey!  On this chilly weekend, our hearts are warmed by the special people who embrace our mission and our girls!
With deep gratitude -
Cathi